Why am I so angry?
Because of this:
https://m.ign.com/articles/2018/12/10/s ... ial-poster
This, needless to say, is wrong.
Why has this happened? I shall attempt to extract the thought processes of the people who commited this horrendous sin against nature from the above article.
First to reiterate some of my feelings on the subject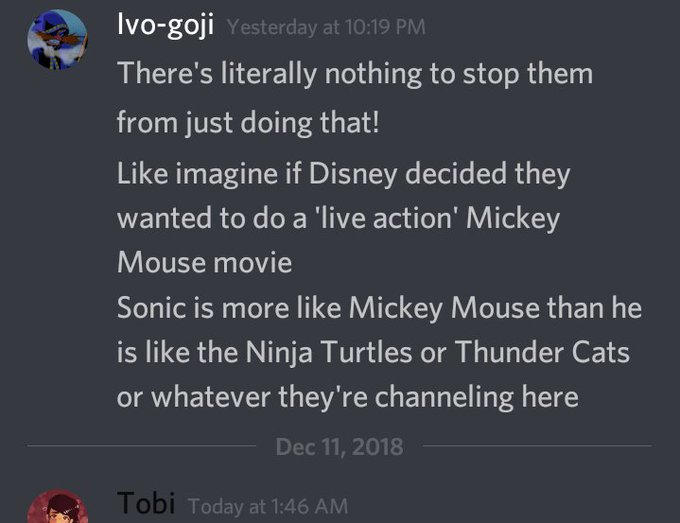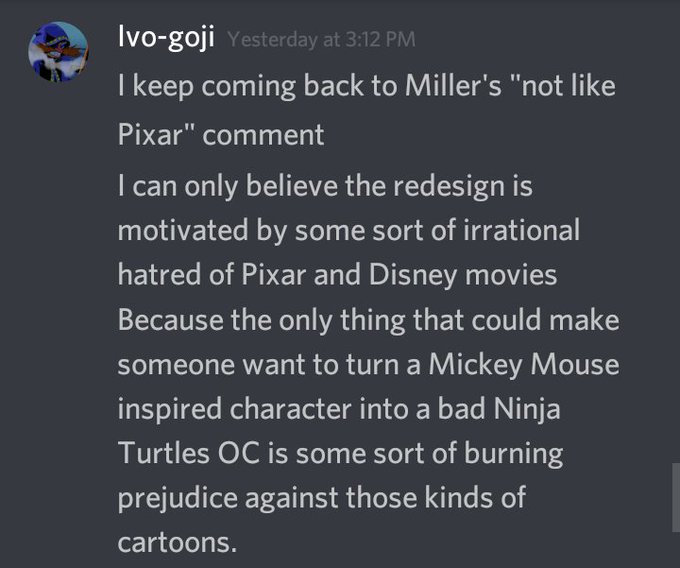 You know who had the same reaction as me? Naoto Ohshima, the man who drew Sonic.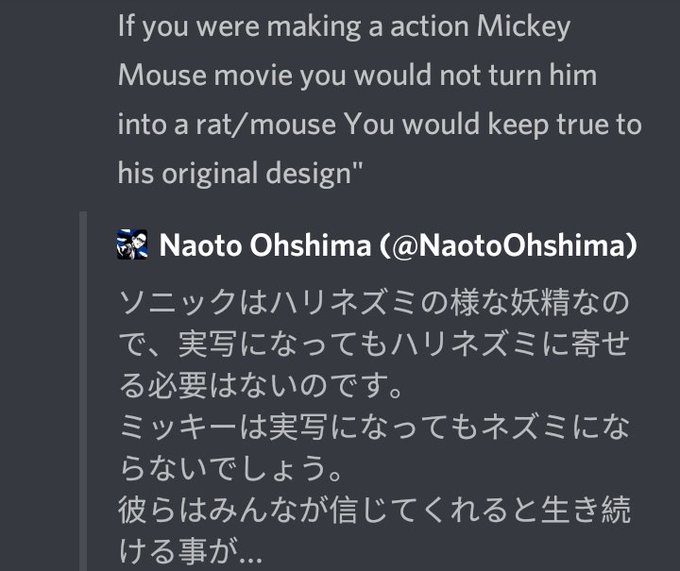 Now with that context in mind for this rant, consider the article.
"This telling of Sonic's story sees him as a bit of a fish -- or hedgehog -- out of water. Sonic, voiced by Ben Schwartz, finds himself in our present-day world..."
Let me stop them right there. I feel that this is the core of the problem. The idea of Sonic being from another world, some planet or dimension where there are talking animals but no humans, is one that goes back decades in his history- and I've always hated it. SatAM, Archie, Sonic X, all those hundreds of fanfics out there with the same premise of Sonic being from a different time or place than the present day world humans live in, it has ALWAYS gotten under my skin, for a host of reasons. The main issue I take with that concept, which I think is important to understanding what is going on with Tim Miller's movie, is this: it attempts to make Sonic less human, by making him more like an animal, after which it feels the need to
explain
why an animal can walk and talk like a human.
That is fundamentally wrong. Sonic is only an animal in the since that talking animals in fables are animals- which is to say not at all. In fables and fairy tales, animals can talk and walk and wear clothes and so on like humans, and it never needs explaining. If you try to explain it, it stops being fantasy. The games have never done that. In the games Sonic lives in a modern world alongside humans and other talking animals without explanation and
without need for explanation
.
Which is good storytelling! They don't need to waste precious time expositing on why humanoid blue hedgehogs exist or how people react to seeing one- as this ridiculous movie undoubtedly will to eat up run time with scenarios cribbed from the dozens of similar random-actor-meets-cgi-critter stories that have flooded theaters in recent years.
Naoto Ohshima in his tweet spells out that Sonic, like Mickey Mouse, is a fairy tale creature that isn't supposed to make sense in biological-anatomical terms. Sonic was inspired very much by the design of American cartoon characters like Mickey, and he runs on the same internal logic. Walt Disney often said that Mickey was "never really a mouse", that he appealed to audiences "because he's so human; and that is the secret of his popularity." Carl Barks, the key developer of Donald Duck in the comics and the creator of Uncle $crooge, famously said "I've always looked upon the Ducks as caricature human beings. Perhaps I've been years writing in that middle world that J.R.R. Tolkien describes, and never knew it." The world Mickey and Donald live in is superlatively similar to our world: the same countries, the same languages, the same history. There's no backstory detailing how upright walking mice and ducks evolved from primitive mice and ducks in that universe, because they are not
really
animals. They're fables, like Mr. Toad or Peter Cottontail or the World Turtle.
This desire to make Sonic a realistic talking animal, in complete contradiction to the spirit of what a talking animal character is supposed to be, leads inevitably to this film's nightmarish reimagining of his body as some horrible fusion of a naked blue man with a hairy rodent.
"The production team behind the movie opted to go for a more realistic take on Sonic -- down to his updated new kicks -- than the more cartoony version we've seen in the past"
A realistic talking blue hedgehog that runs at the speed of light. Poof. Logic.
"The filmmakers consider Ted to be an appropriate analog for the upcoming Sonic movie's integration of a CG character into a real-world setting."
An R rated movie about a sentient stuffed animal is what they're looking for in an adaptation of a children's video game. How could anyone on Earth be that breathtakingly stupid?
"The first thing you'll likely notice about the character is that he has fur -- a bit of a no-brainer, considering what he is, but still a markedly different visual depiction of Sonic than what we're used to. "That was always Stage 1 of adapting it to what the
real
world is and what a
real
animal would be like," executive producer Tim Miller (director of Deadpool) said of giving Sonic fur. "It would be weird and it would feel like he was running around nude if he was some sort of otter-like thing. It was always, for us, fur, and we never considered anything different. It's part of what integrates him into the
real
world and makes him a
real
creature.""
I'll let Prof. Tolkien point out the logical error here: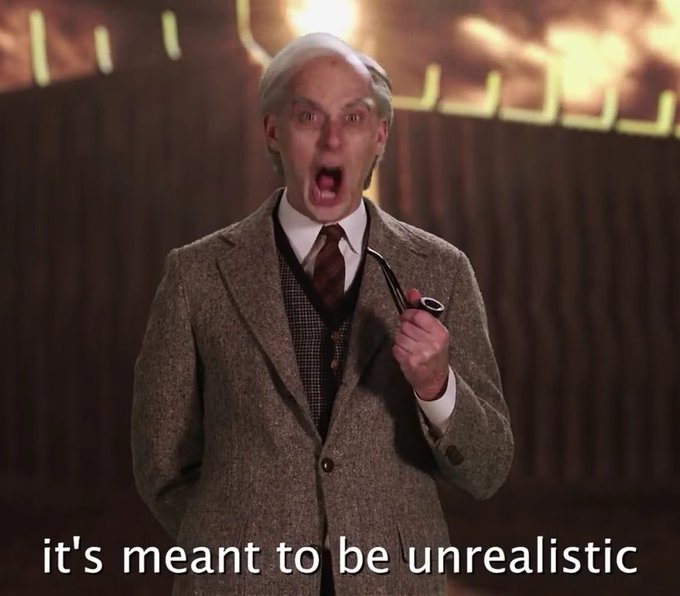 "Then there are the shoes. "We looked at every different variation of what shoes he's worn and we're trying to pay homage to that and also make it
current and present day
in what we think a Sonic of today would wear," "
Current? Present day? What are they blubbering about? How are his shoes more "current" with laces? What did they change about them to make them more modern? Are Michael Jackson's Bad kicks too archaic for our more sophisticated and discerning post-90s audiences? Never mind how damned ugly the shoes they went with instead look.
This is political cant. This is shit politicians say to sound like they know what they're doing. 'We're making progress. We're forward thinking. We're bringing it into the modern world. We're adapting with the times. We don't need those 90s sneakers. We have 80s looking sneakers. 80s is the new 90s.'
Seriously. Read that again. "A Sonic of today". Apparently all those games that came out in the past twenty years or so were all too behind the times. Sonic is this impossibly ancient thing that's so foreign to the culture 2018 people today will never appreciate or understand him without a cosmetic overhaul.
Imagine being a member of SEGA and reading this BS, being told the character you created in 1991 can no longer be considered 'a Sonic of today'.
Hell, I was born in 1994. Has the world left me behind? Do we need a new Ivo of Today to take my place in this brave new world?
These people are fucking lizard men. They have no grasp on reality whatsoever. They're literally regurgitating the same lines Marvel uses to justify shit like Hydra Cap and One More Day. This is the sort of thing a college says when it's getting rid of its liberal arts courses. This is the sort of thing a Pope says when he's rewriting the catechism. This is the sort of thing a filmmaker says about adapting a work of fiction that was written in the 19th century-
except they're saying it about a character who was created in 1991
.
"The most challenging part of Sonic's updated design isn't revealed in this teaser: his eyes. The filmmakers struggled with how best to depict Sonic's eyes because often he's only seen with one, and that wouldn't translate well to the live-action movie.
"I don't think SEGA was entirely happy with the eye decision, but these sorts of things you go, 'It's going to look weird if we don't do this.'"
Well merciful fuck, we don't want Sonic to look weird, now do we? You know what would help keep Sonic from looking weird? Not giving him eyes that project out of his head so far you can somehow see them in his silhouette in the teaser! Or just not making him an insanity inducing abomination with naked man thighs!
No hell SEGA isn't happy with this, you are raping every aspect of their mascot down to his bones!
"But everything is a discussion, and that's kind of the goal, which is to only change what's necessary and stay true to the rest of it," said Miller."
Does Miller say that before he prostrates before his lizard man master's huge green reptilian dong?
This cant could not be more meaningless and asinine if it came out of a machine. They did not make a single necessary change, they changed as much as possible for absolutely no reason.
"He's not going to feel like a Pixar character would because I don't think that's the right aesthetic to make it feel like part of our world."
Sonic would make 100000000000000000000000 times more sense as a Pixar character. Good grief. That comment
has
to be about the real motive here, they're creating naked blue lemur Sonic as some sort of middle finger to Pixar and their cutesy characters, like they've got some sort of grudge against the studio and want to show everyone what a real anthropomorphic hedgehog looks like in retaliation for all the attractively stylized CGI movies they've made.
"Post-production began about a month ago, so the special effects are still being finalized, but director Jeff Fowler -- the movie's resident Sonic superfan and
internal defender of staying true to the character
"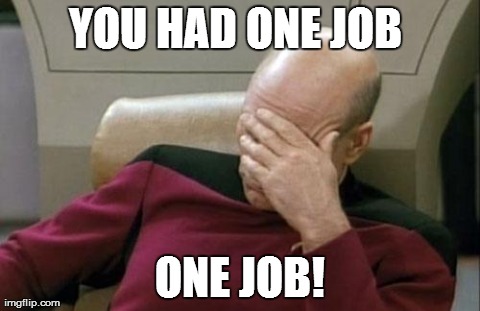 "The first thing you need to do is put limits on it. If you can do anything, nothing is special. For me, it's always about keeping it grounded and keeping it realistic," said Miller. "
Sure, you've violated everything else about the character, go ahead and nerf his speed too. Realistic talking hedgehogs need realistic super speed!
"Obviously the poster can only show so much. … That's a hint at what we're hoping to accomplish, but I think people are going to see things they've probably never seen before in trying to represent speed in this movie," said Moritz. "
He's not wrong; we've never seen Sonic's naked ass cheeks quaking as he runs before.
"We've worked so closely with the people at SEGA who are kind of the gatekeepers of Sonic to make sure we're lockstep."
Dear God I hope no one at SEGA actually okayed any of this. If there is any justice in the world they will stop this movie from ever seeing theaters. Please Iizuka, do something. Anything. Go make a Shadow the Hedgehog movie instead if it prevents this version of Sonic from appearing onscreen.
"We're trying to make something that's for today "
F O R T O D A Y
Lizards!
"With Sonic being thrown into the real world and out of his own, it's unclear what presence fan-favorites like Tails and Knuckles will have in the new film. "
UHHHHHHGGGGHHHHHHHHHHHHHHHH
I do NOT want to see these people turn Knuckles into a naked monkey thing. I don't want to see any of the cast get hit with that Hollywood garbage.
Imagine Amy in this art style.
Sfbgbjgkgjhhjvjknhjnjjj by bngj in hvj
This is the worst thing that has ever happened to Sonic. In an entire life time of messed up things, this is the most messed up.